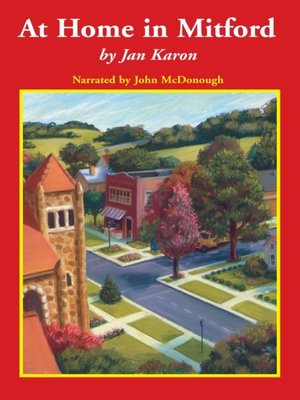 Image via Overdrive
Now that I'm closer to fifty than forty, my eyesight isn't the 20/20 wonder it used to be. My good pair of reading glasses broke, so all I have is an inexpensive pair that doesn't work well. So, I've turned to audiobooks. You can get some good ones from the library--my system has both
Overdrive
and
RB Digital
.
Through RB Digital, I've been listening to the John McDonough narrated versions of the
Mitford series
. Though I've read the series (the twelve main books and the companion books) at least five times over the years, listening brings something new and comforting to the books. McDonough captures the characters and has a rich, soothing voice. As to the series itself, I'm finding it a comfort during this time that my own faith feels very wobbly and my sense of community diminished, to revisit the small, fictional North Carolina town of Mitford which "takes care of its own" and rector Father Tim's faith is central to each tale. There's tragedy and joy, multiple generations, family strife and togetherness, and even some romance, all in a gentle style. The cast of characters is large and I'm invested in their happiness, as I want to be in each person that occupies this world with me.
Have you read the Mitford series? Do you listen to audiobooks?
Mitford series
Overall ★★★★ (4/5)
Comfort 🍵🍵🍵🍵🍵(5/5)
Romance ❤❤❤❤ (4/5)