Lizzy is a bit stuck in her own assumptions (prejudice much, Miss Lizzy B?)
Is Lizzy really that taken in by Wickham?
Lyds, you little flirt, and she takes after her mum.
Ah Mrs B sees Lizzy's sly smile and is displeased.
I have nothing to reproach him with...echoes of Sense & Sensibility.
Lizzy you schemer...getting Jane to London...shades of Mrs B.
Lizzy seems more understanding of Wickham trying to marry for comfort than Char.
Lady C...all the sisters out!
Col Fitzwilliam has easy manners. Catch on, Lizzy.
She's got him all flustered. Ha!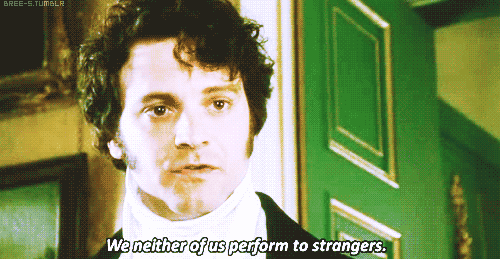 Darcy all like, quit haunting me woman;
Ha! I am not afraid of you.
He's thinking of Wickham.
Trying to find common ground.
Was he waiting for the Collins's to leave so he could get Lizzy alone?
Darcy like, oops, I said too much
The men are kind of gossips.
Darcy all: Hope you're feeling better cause I'm not; you've bewitched me, so I can't stay still.
No preamble: boom, a proposal
I can't help it, girl, I luvs you.
Was he really expecting a yes?
Jealous much, Darcy? Supercilious too.
Burn! Go get you some burn cream, Darcy. Halfway through, and so much has happened!
Lizzy has so much to hide.